back
Arcare Templestowe wins Gold Design Award for Design Excellence
Via Architects' design for Arcare Templestowe received a prestigious Good Design Award Gold Accolade in the Architectural Design category at the 2019 Good Design Australia Awards, in recognition for outstanding design and innovation.
The winners of Australia's peak industry design awards – the highest honour for design and innovation in the country – were announced on 11 July at the 61st annual Good Design Awards Ceremony.
Via Architects' design sets a new standard for lifestyle in the aged care sector by reimagining how residents will experience, interact with, and inhabit the residence.
VIA's broader design expertise in diverse sectors, including boutique residential, strongly influenced the design for Arcare Templestowe and gave them an edge that helped to win the award. The interiors are luxurious, with high end fittings, fixtures and furniture more commonly found in hotels, commercial premises or high-end homes.
A positive perception of ageing
The Good Design Awards Jury praised Arcare Templestowe for contributing significantly to a positive perception of ageing and housing options available.
"It delivers real choice to this market segment that has been either scant or missing in Australia. The design delivers an inclusive and well-designed lifestyle environment in a very contemporary style. The design de-stigmatizes and re-positions the perception of care facilities. In contrast to conventional residential care facilities, occupants interact and inhabit quality spaces with features, furniture and finishes that do not discriminate in any way. There is a lovely sense of light, openness and amenity which is likely to reassure families and visitors as to the quality of care."
In a conventional model of aged care design, residents may experience isolation and mobility challenges. Arcare Templestowe counteracts this with a creative approach to lighting, volume, visual connectivity, integration of indoor and outdoor, and design of shared of spaces. The spaces enable a sense of independence balanced with belonging, and encourage a positive, healthy and mentally stimulating lifestyle.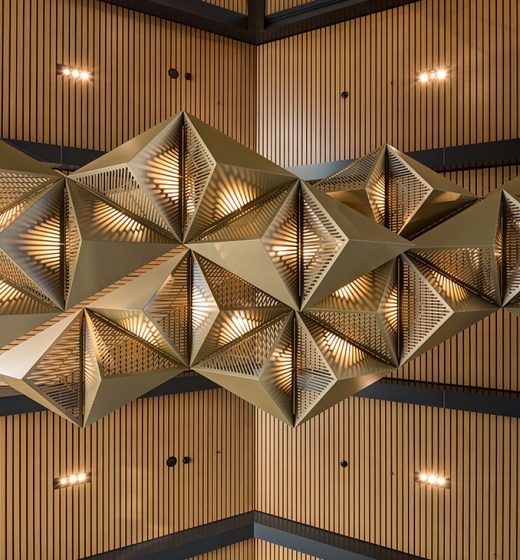 Collaboration with the client
VIA Managing Director Frank Bambino believes the success of the design reflects VIA's experience across diverse sectors, combined with the strong relationships their team establishes with clients.
"Arcare was a fantastic partner on this project because we both appreciated being able to challenge each other," says Frank.
One of VIA's operating principles as an architecture studio is 'challenging conversations'. Clients choose VIA when they want to be pushed to create excellent design that delivers for the unique needs of their people, site and regulatory parameters.
VIA was able to balance planning constraints with Arcare's programming aspirations, to unlock the space allowable and create a living precinct that engages residents and enables staff to better support and care for them.
Photography by: Jaime Diaz-Berrio
About the Good Design Awards
The annual Good Design Awards is Australia's most prestigious international Awards for design and innovation with a proud history dating back to 1958. The Awards celebrate the best new products and services on the Australian market, excellence in architectural design, engineering, fashion, digital and communication design and reward emerging areas of design strategy, social impact and design entrepreneurship.
The Good Design Awards attracted a record number of submissions this year, with close to 700 design projects evaluated.
Image: Dennis Hogan (Arcare), Lily Vaughan (Arcare), Nava Clauscen (Arcare), Lin Zhu (VIA Architects), Stephanie Allen (Arcare) and Frank Basanisi (VIA Architects) at the awards.