back
Community Care // VIA Celebrate the Opening of the Brotherhood of St Laurence Clifton Hill Residence
As an architecture practice, we hold our values of compassion, consideration and collaboration in high regard. A human-first philosophy drives our design responses, particularly across our work in the seniors' living sector.
When designing the new Brotherhood of St Laurence (BSL) Clifton Hill Residence our approach was to create an environment that was welcoming and inclusive, acting as a refuge for those who may be disadvantaged or homeless and in need of specialised aged care.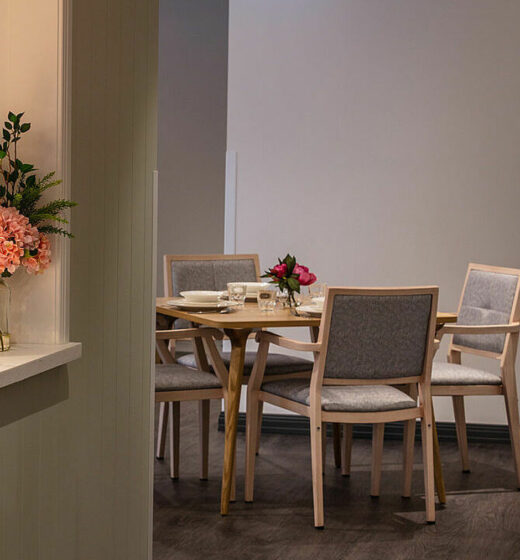 The government funded and accredited Clifton Hill Residence was officially opened to the community on the 4th February, 2023 by the Hon. Ged Kearney, Federal MP – Assistant Minister for Aged Care and Planning, and was incredibly well received by BSL staff, stakeholders and residents alike.
The project was led by our Associate, Ken Seakins, who leveraged his integrated expertise across architecture and construction to oversee the delivery, ensuring VIA's signature high standard was achieved.
"We were humbled when the opportunity arose to work with BSL to design an aged care home that would help elderly community members live a life with dignity, regardless of their background," said Ken.

"It was wonderful to attend the opening ceremony and to meet the warm and caring BSL team. It's evident that they have taken the time to get to know the residents and are catering to their individual needs."
With no compromise on quality or ease of living, the five-storey building features spacious private rooms with ensuite bathrooms, some of which capture garden and city views. Light filled communal areas were designed as social hubs where residents from all backgrounds can meet and interact, forming an important support network of likeminded neighbours.
The café on the ground floor connects residents with the community, providing a space for families to gather and parents to spend quality time with loved ones after morning drop-offs at the neighbouring school. This facility also opens up opportunities for under-privileged teens and young adults, encouraging them to seek employment and develop a skillset in the hospitality industry.
It's a privilege to be awarded the responsibility to design specialised facilities, such as the BSL Clifton Hill Residence, that contribute to our community in meaningful ways.
Uncategorized
Project News