back
10 YEARS AT VIA // THOMAS MITTON ON LIFE WITHIN THE STUDIO
We sat down with our recently promoted Senior Associate, Thomas Mitton, to chat about his career journey, passion for architecture and life within our studio.
Q: Congratulations on your recent promotion to Senior Associate! What inspired you to choose architecture as a career path?
Architecture has been part of my life from an early age, largely influenced by my father who is also an architect. As a child I would often go into the office with him, and I was fascinated by his work. I remember feeling inspired witnessing my dad sketching designs and collaborating with clients and colleagues to bring projects to life. I believe those experiences ignited my curiosity and passion for creating, which has only grown stronger over the years.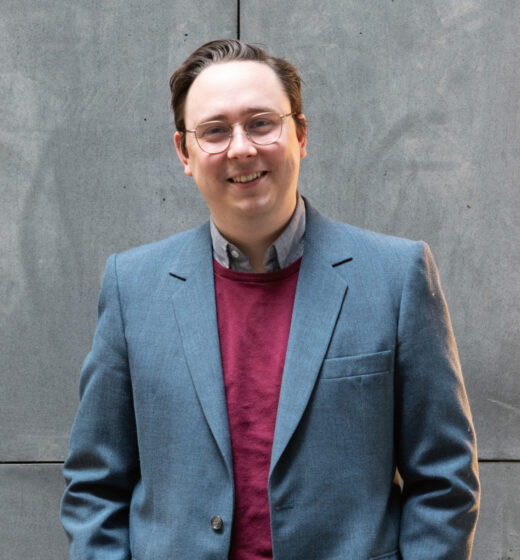 Q: What aspects of your work in architecture are you most passionate about?
One of aspect of my work that I enjoy the most is tackling complex, big-picture problems. I view each project as a unique puzzle with its own set of challenges and constraints. I love breaking down these challenges into manageable components and developing solutions that meet the project's objectives.
I also enjoy the human element of architecture. Sitting down with clients and delving into their aspirations, desires and visions for the project is an incredibly rewarding experience. Understanding their needs and motivations can help guide the tangible architectural expressions we produce.
Q: Can you talk us through your approach to project design?
Every project is unique and it begins with exploring the client's brief. No matter the project, I believe that connecting with the client on a personal level is crucial to shaping the design process.
To truly grasp the essence of the project, I try to put myself in the shoes of the future resident. This empathy-driven approach allows me to understand how the project will be experienced at a human level and this acts as a foundation for the design.
A central design concept can form once you have an in-depth understanding of the project's intent. From there, the design language should follow through to every aspect of the project, resulting in a cohesive architectural solution.
Q: Throughout your career in architecture, in which specific areas have you developed your expertise and specialised in?
Throughout my career, I have developed expertise in many of the areas that align closely with the diverse portfolio of projects handled by VIA Architects. Having spent a significant portion of my professional journey at VIA, I have essentially grown up within the studio and have expanded my knowledge and skills in tandem with its evolving focus.
From my early experiences in residential housing to the seniors living sector, my passion has always been understanding how people live in their spaces and enhancing their experience. The pursuit of creating homes that reflect the lifestyles of their inhabitants continues to be a driving force in my work.
I am grateful for the opportunities VIA Architects has provided me to develop my expertise in these meaningful areas of architecture.
Q: You've been with VIA Architects for ten years now. What have been some of your favourite moments in your career?
During my ten years at VIA Architects, I have had the pleasure of experiencing so many memorable moments with the team. While there have been fun times, such as staff getaways, some of my favourite moments revolve around witnessing our designs come to life. These moments are the most fulfilling for me. Throughout my time at VIA Architects, I've been fortunate to witness the transformation of many projects from initial concepts to fully realised spaces.
Q: Tell me a bit about the culture at VIA Architects, and how you collaborate with the broader team to inspire each other and deliver projects that align with VIA's values?
Our culture is something we take great pride in. It's a place where everyone looks forward to coming in, and the collaborative spirit is truly inspiring. One of the key aspects of our culture is openness. We foster a flat structure where everyone's opinion is valued and encouraged.
We strive to create a culture where junior team members feel supported and confident in expressing their ideas. We believe in the power of diverse perspectives and understand that the best outcomes are achieved through the collective intelligence of the team. When junior members feel that their contributions are valued and respected, it creates an atmosphere of mutual growth.
Q: In your opinion what makes a good leader, and how does this guide your leadership style?
In my opinion, a good leader is someone who possesses adaptability and authenticity. Leadership is about being honest and transparent. A leader should be able to adapt their style to meet the needs and strengths of their team.
Trust is also an essential element of good leadership. Building trust with the team members is crucial in order to establish strong working relationships. A good leader gains the trust of their team by being open, approachable, and supportive. By creating an environment where everyone feels valued and included, a leader can foster a sense of belonging and unity within the team. These are the principles that I try to implement in my leadership style.
Photography by: Jaime Diaz-Berrio